Venice House by Sebastian Mariscal
The award-winning Venice House by Sebastian Mariscal has been published worldwide as a celebrated example of warm modernism. Configured as a compound of structures connected by formal outdoor spaces, the result is a heightened integration of nature into daily life. Interior spaces open via solid mahogany lift-and-slide pocket doors to interface with exterior patios, courtyards and rooftop gardens creating expertly crafted indoor-outdoor living. Two outdoor fireplaces complement a dining pavilion and lounge area. A sensuous palette of mahogany windows and extensive custom casework is balanced with finely detailed ebony-stained cedar siding. Mature trees include California Live Oak and Japanese Magnolia, offering tranquil seclusion in a quiet part of Venice close to the vibrant dining and shopping scene of Abbott Kinney Blvd. Featuring Miele appliances, TOTO fixtures including Neorest Japanese toilets and whole-property water filtering. Built in 2013 and offered for the first time.
uploaded Venice House by Sebastian Mariscal through 
Add your own project for the chance to be featured 
A screen divides an entry porch from the first of several private courtyards and outdoor areas. The home is clad in ebony-stained cedar siding, which contrasts with mahogany casework.
The entryway opens into a courtyard overlooking the main living pavilion. Throughout the home, interior spaces flow into outdoor areas via folding and sliding glass doors.
Photo: lance gerber
The living area is bordered on two sides by separate courtyards.
Today, a California live oak blocks a view from the street, and a massive pine sits in the front courtyard—in addition to a Japanese maple, bamboo, and other specimens. Here is a look into the second courtyard and a covered patio off the kitchen.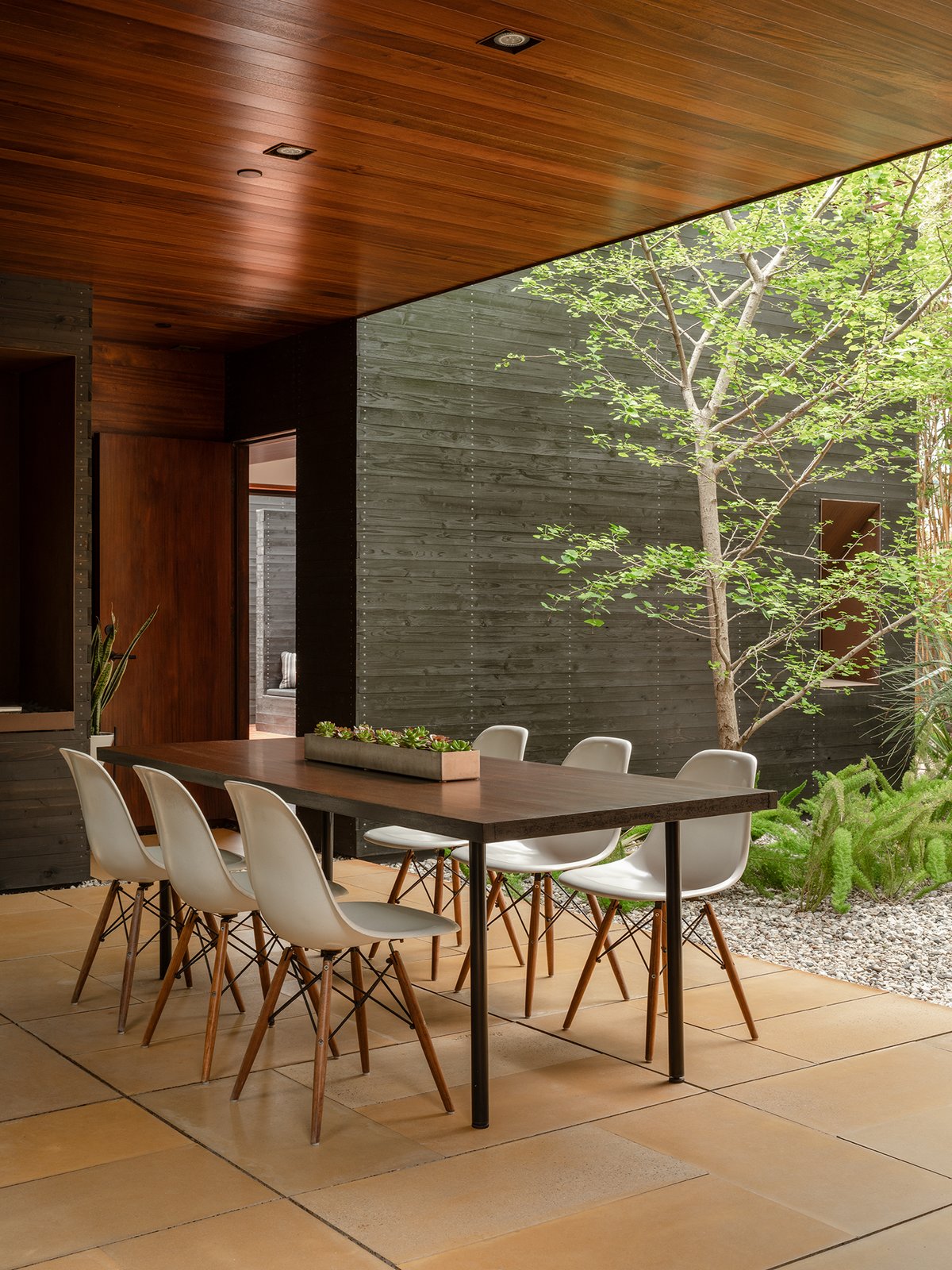 A covered dining area marks the end of the communal areas, with a door leading to the master bedroom.
A private deck sits just off the master bedroom.
A private outdoor space connects the master bathroom with the home gym. The residence has TOTO fixtures (including Neorest Japanese toilets) and a property-wide water filtration system.
Another view of the master bath courtyard, which is lined with Eco Arbor Designs deck tiles and features a ceramic Peanut planter by John Follis for Architectural Pottery from Vessel.
Stairs lead up to a rooftop deck that adjoins a media space and two guest bedrooms. "We wanted to have this idea that you can be in your own private space, integrated with nature, and you don't know that someone else is in a room next to you or around the corner," Sylvester says.
A view from the rooftop garden into one of the guest bedrooms.
Thick custom casework surrounds a set of solid mahogany lift-and-slide pocket doors.
Sliding pocket doors connect the space to the rooftop garden.
One of the guest bedrooms is illuminated by a skylight in the corner, above a built-in desk.
A deck connects the guest bedroom with the other bedroom and stairs leading to the living area downstairs.
The patio and garden offer a serene setting for nighttime dining and entertaining.